A backflow preventer is a device that's installed on your home's water pipes that allows water to flow in one direction but never in the opposite direction. Its sole job is to prevent drinking water from being contaminated due to backflow.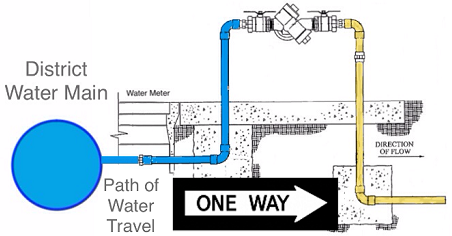 The backflow preventer is in front of the house near your driveway. It's typically 12 feet from the road, with the pipe coming up from the ground in a u-shape; about 2 feet above ground with a mechanism in the middle.
LEE COUNTY ORDINANCE 95-21, states that the customers responsibility begins at the service connection with the public potable water system and includes all of the customers' private water system. The customer shall protect the private water system against actual or potential cross connection or backflow as required by the Lee County Utilities Cross-Connection Control Policy, the Standard Plumbing Code and all other-applicable state or federal regulations.
Furthermore, the customer shall provide for routine testing of backflow prevention devices, maintain accurate records of tests and repairs made to the devices. However, Lee county Utilities does not require annual inspections or filing with their department. The owner is responsible for maintaining maintenance records in the event of an incident.
All costs incurred for device purchases, installations, maintenance, testing and repairs are to be paid by the customer.
As for possible service providers, we do not recommend any specific vendor since there are many available;
Neighbors who required and used a service provided the following:
United Plumbing 239-482-3888
Watermark Redevelopment 239-994-7946
All Phase Plumbing 239-945-0126
submitted by Donald J Jancin – 4/19/2019